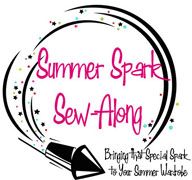 Fired by the success of the Small Projects Sewalong, in that I actually managed to get some sewing done, and being resolutely optimisitic that work will be less frantic this month, I'm going to join in with the
Summer Sparks Sew-along
hosted by Alessa at
Farbenfreude
.
Again, the brief seems quite manageable (she says, not mentioning
Karen's Pyjama Party
): just 'one fabulous garment'.
Early plans for a darling lemon-yellow
Cambie
have quite sensibly been shelved, given that an unfinished
Sorbetto
and an exceptionally unsuccessful A-line skirt do not a seamstress make.
Current ideas are of the basic skirt or sundress magnitude, with the main aim being to actually wear whatever I make. In public.